Vegetable Leather Dyeing
VEGETABLE LEAHTER DYEING.
In order to bring color to leather pieces we apply dye or coloring after the tanning process. The artisans apply these pigments directly on the hide to lend a unique personality to each piece coming out of our workshop. 
The products used to color leather are:
- Mineral dyes like ferrous sulfate (brings gray tones that may reach black) and potassium bichromate (brings dark and brownish-gray tones).
- Water-based and alcohol-based anilines.
- Alcohol-based and water-based dyes, which are more ecological and environmentally friendly, and color lacquers. Currently, these are by far the most used products to dye leather.
- Acrylic and oil-based paints. They represent a different way to apply color. Unlike dyes, these paints not only dye, but they also cover the surface of the hide totally. Acrylic paint sticks perfectly on vegetable tanning just like synthetic paint. 
All our products are dyed by hand. The different textures and finishes depend on the type of dyeing we use. 
The types of dyeing are:
IMMERSION
The leather is immersed in a bath with the dye. Previously, a few time tests are run to obtain the desired color and intensity.
AIRBRUSH
It could be a sort of pistol with greater volume or small airbrush. The air that brings the dye comes from a compressor and it can be adjusted so the application is uniform.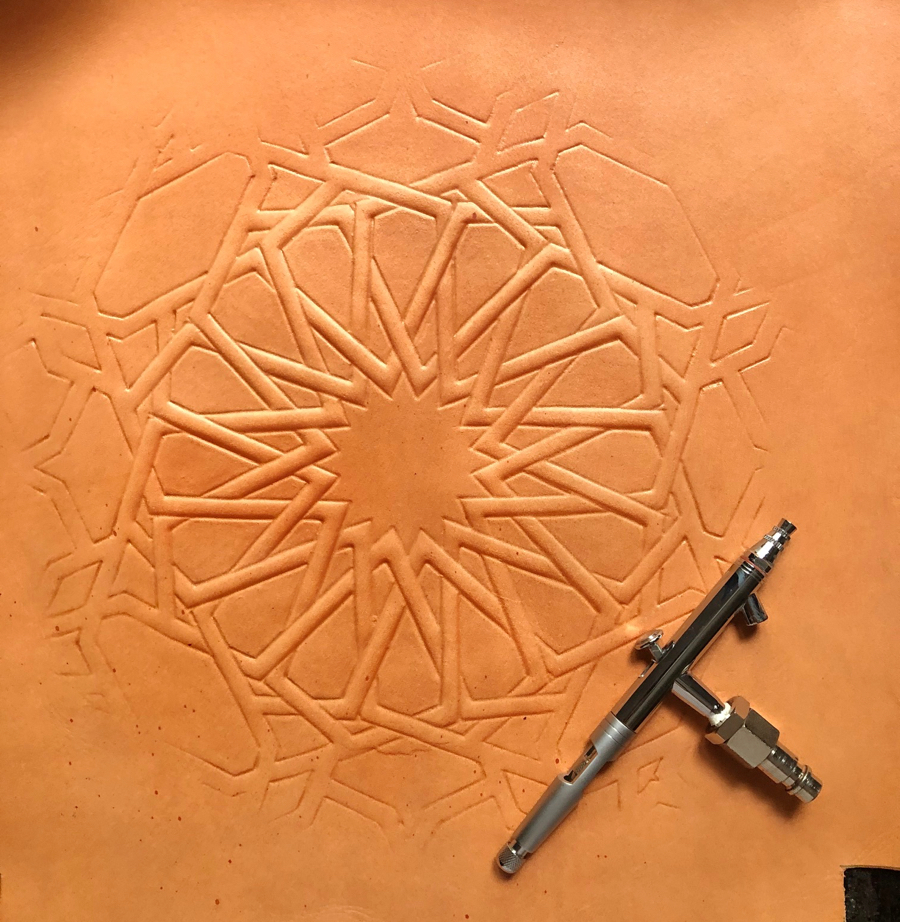 SPRAY
Normally, they are plastic containers for the dye, which is sprayed on the surface. This procedure creates original color textures on the leather. 
SPONGE
Single-use sponge to dip in the coloring and then apply it on the smooth side of the leather. The colorant will be absorbed quickly, it is not necessary to push, just brush the surface. It might need some layers until the color is uniform.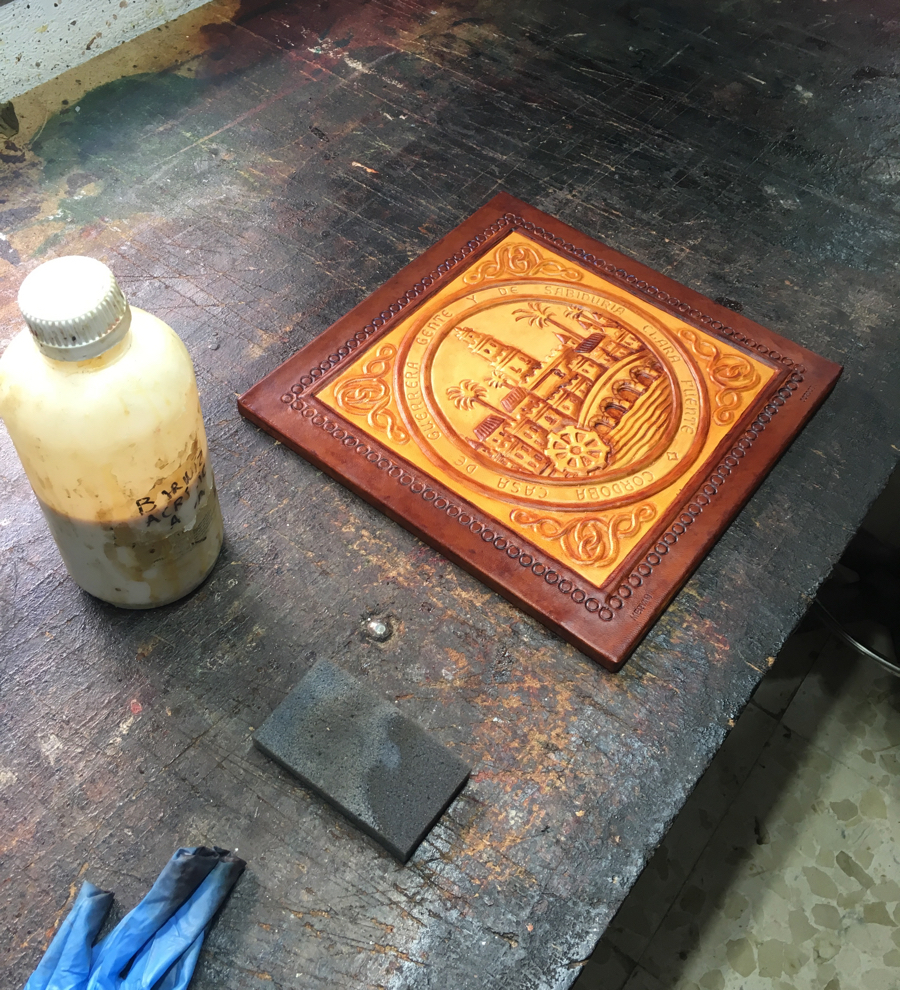 HAND-RUBBING APPLICATOR
An applicator made with a cotton cloth filled with raw cotton. The same process of the sponge, but it should be wrung before applying.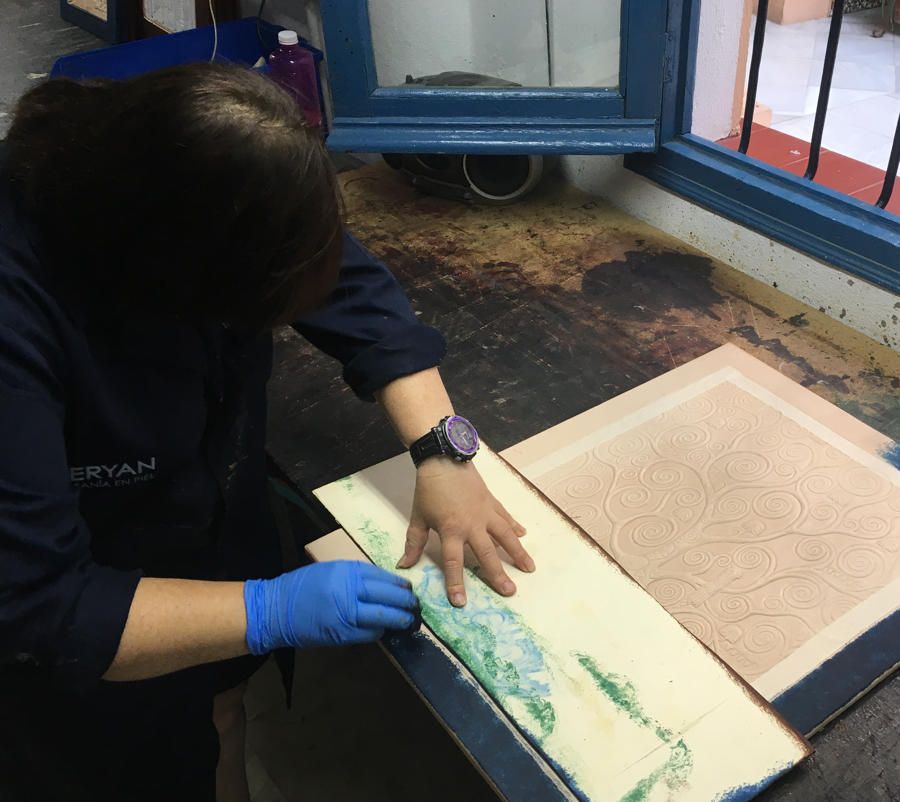 BRUSH
It dyes the whole surface of the leather piece without any transparent zone. The brush is dipped in the dye bottle and then paint the leather. You can apply multiple layers until you get the desired tone of color.
PAINTBRUSH
A complement of the work made with the brush to contour the edges you do not want to dye.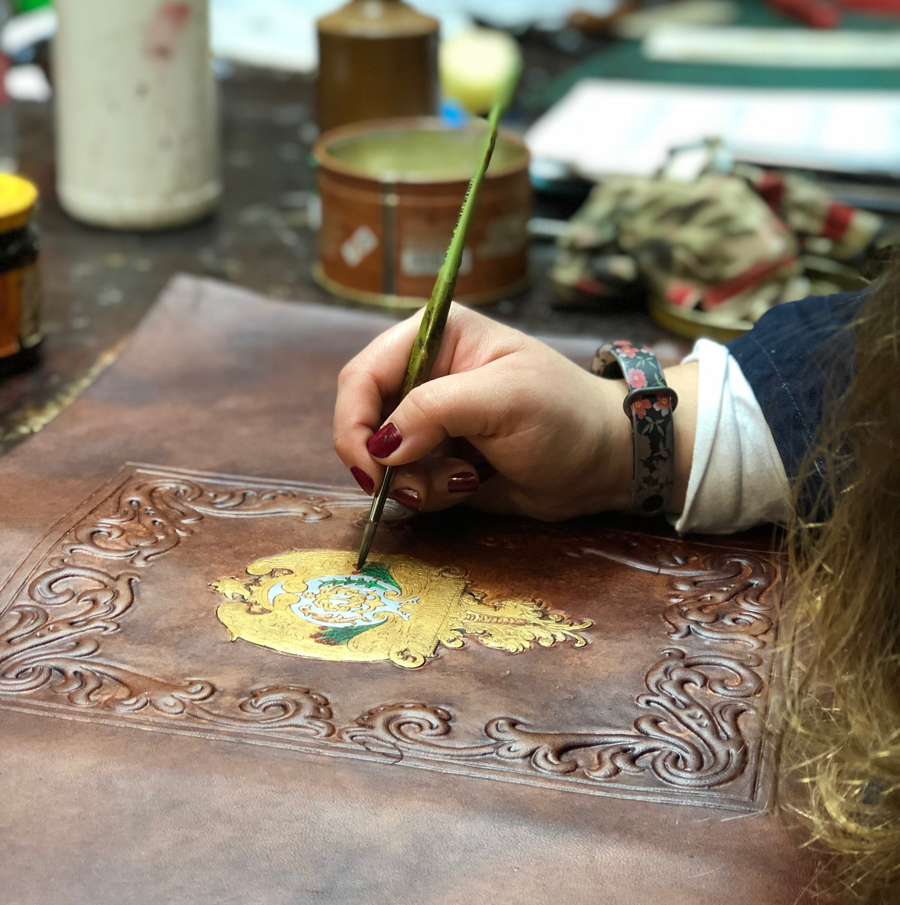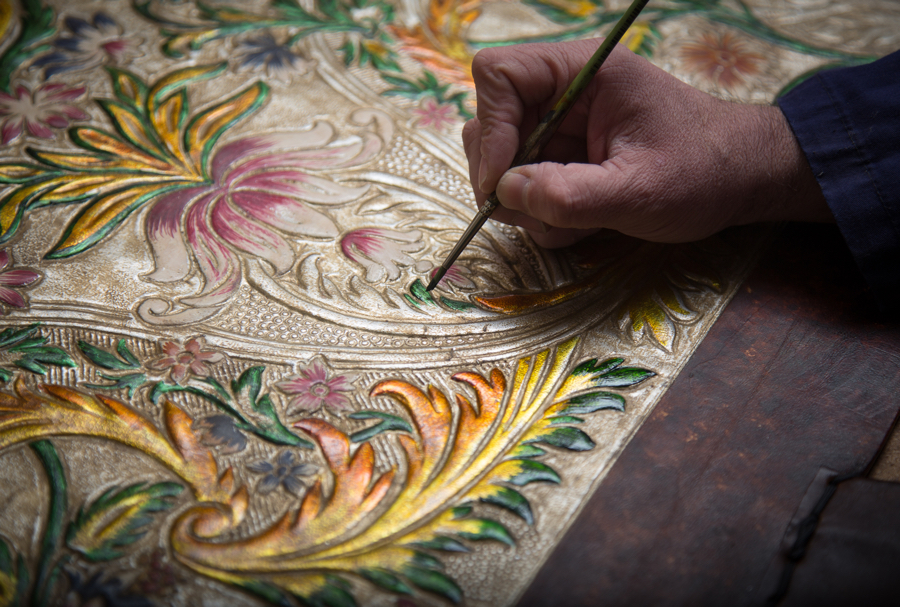 At Meryan we put into practice all these techniques of dyeing and pigmenting leather, depending on the finish we want and the piece we are treating in our workshops. Here you have a selection of unique pieces in which our artisans have applied each technique in a unique way.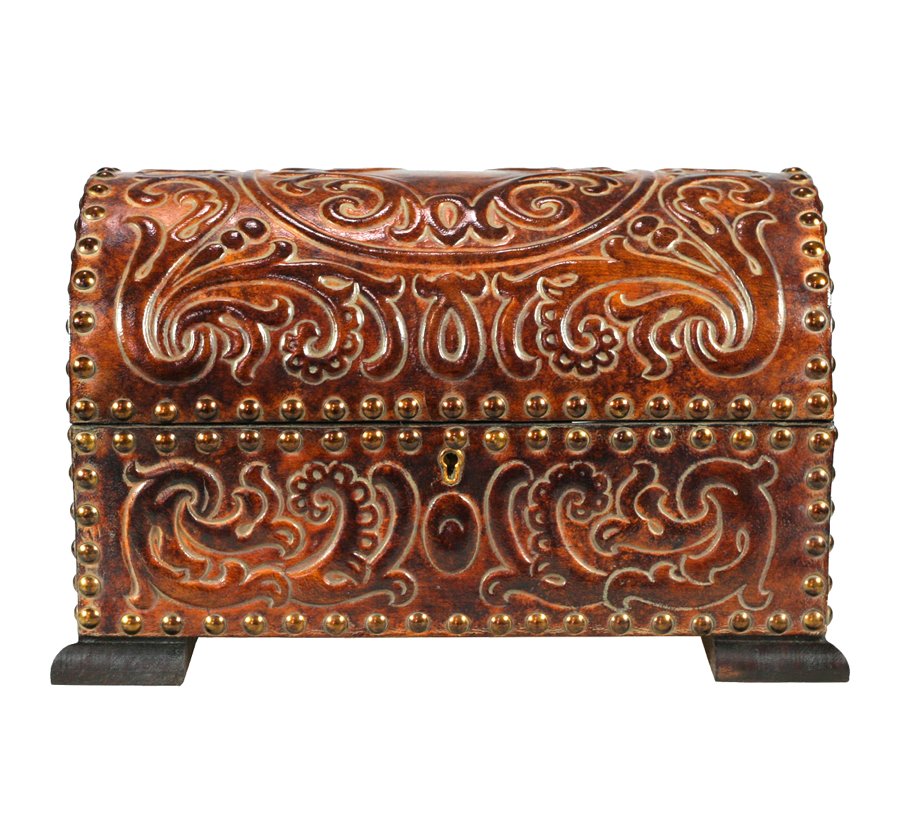 Example 1. Leather chest "ADAL" paint with water based-dyes and hand rubbing-applicator.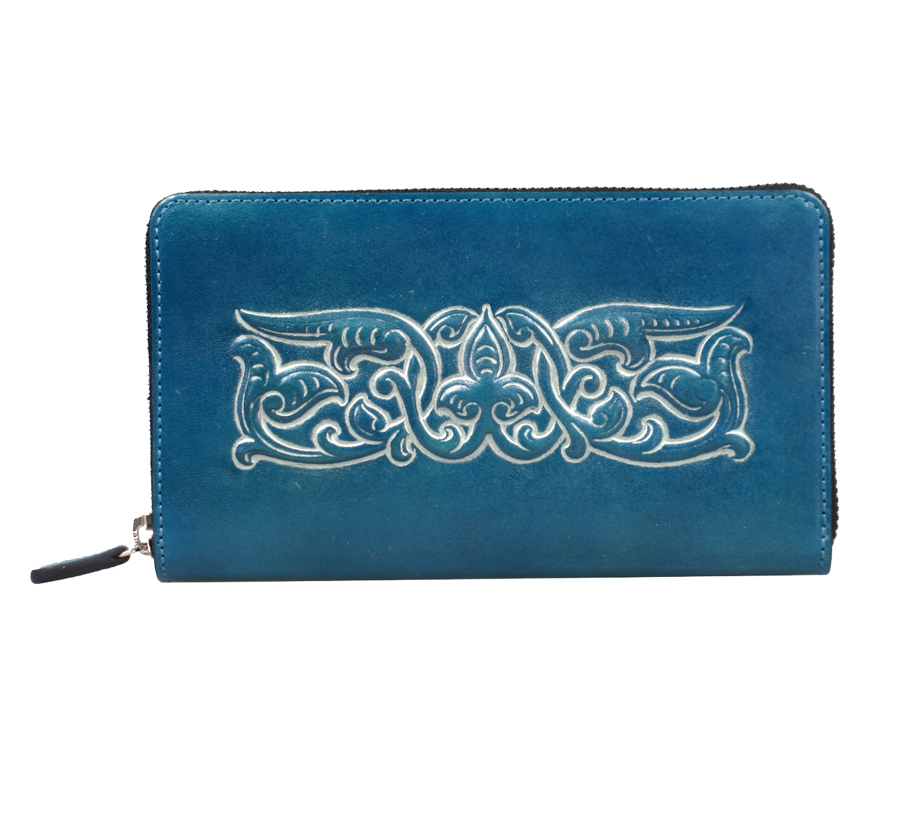 Example 2. Leather wallet "WALADA" paint with airbrush using water based-dyes.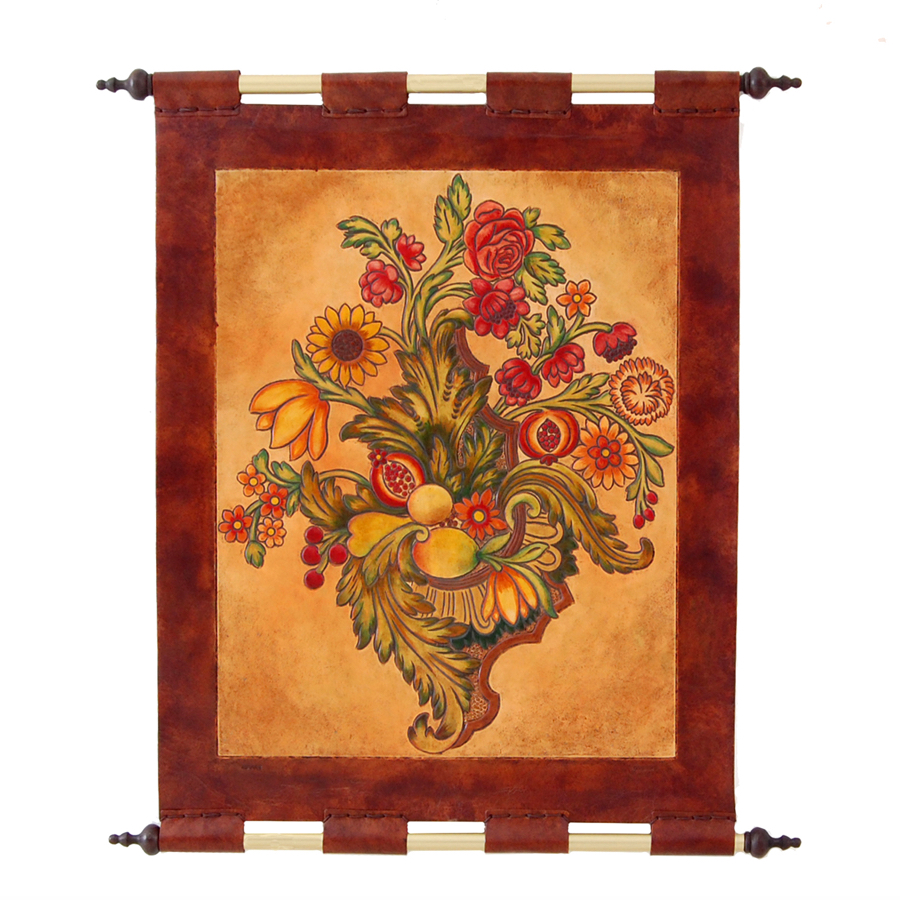 Example 3. Leather tapestry "PÚNICA" paint with paintbrush using water based dyes.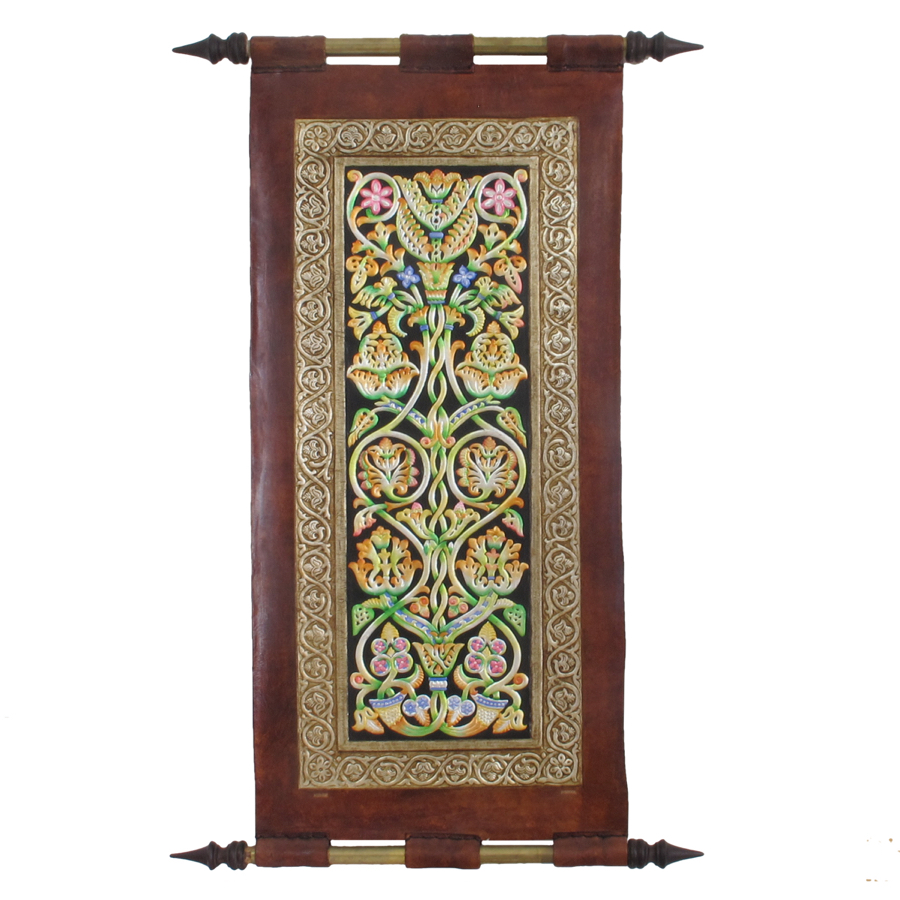 Example 4.  Leather tapestry "MADINAT"  with paintbrush using oil.